Description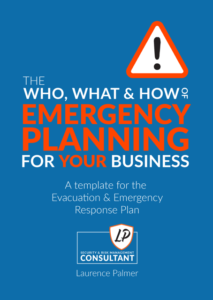 The who, what and how of emergency planning for your business by Laurence Palmer.  © 2021 Laurence Palmer.  All rights reserved.
Emergency response planning, and all the supporting elements that go with it, is a legal requirement for all businesses, that occupy premises and employ people. The Occupational Health and Safety Act (OHSA Act 85 of 1993) requires every business to have an Evacuation and Emergency Response Plan, applicable to the premises at which they conduct their business. This plan must be rehearsed and tested for effectiveness at least once a year, or once every 12 months.
I assume that not only do many businesses operate without such a plan but those that do have a plan do not exercise it as required by law. The tragedy manifests itself when the business encounters a fire or natural disaster due to an unforeseen or unexpected event. If not adequately prepared for it, it may result in dire consequences for the business and its employees.
The generic plan and guidelines set out in this document are intended to provide a user-friendly platform that will empower you, the individual responsible for the safety and emergency preparedness, to prepare and exercise a relevant safety and emergency response plan, for the business.
Although the basis of this document is my 25 years of practical experience and every care has been taken in compiling it, it is not possible to capture every possible eventuality.  Therefore, you are required to complete the templates with due care and apply any unique scenarios, that may apply to your specific business.
The generic basis for the plans is a large Petrochemical Storage and Manufacturing facility, which I believe provides a very comprehensive and multi-faceted approach to emergency planning, which will cover most of the possible scenarios encountered in a Commercial or Industrial facility.
Thank you for your support in purchasing this publication.  I trust that the application thereof will benefit your business going forward, save lives, prevent injury,   and protect assets. – Laurence Palmer
This manual provides a full emergency plan template for your business.  All you need to do is fill in the information applicable to your business in the correct place and follow the suggestions.
More about Laurence Palmer and LP Consultant:
Laurence Palmer is a security professional who has conducted a successful Security and Risk Management Consultancy since 1995. The primary objective of his consultancy is to provide a hands-on personalized security and risk management service. Not readily available within the industry.
Portfolio of consulting work-
Security Strategy and Philosophy statements.
Security Policy, Vision and Mission statements.
Security – Tender preparation, invitation and adjudication Project.
Security – Site Operating procedures.
Security – Standard Operating Procedures and Duty Sheets.
Security Risk Assessment and Security Plans  (Industrial plants and factories, Commercial buildings, Gated residential estates, Office parks)
Emergency Response Plans.
Emergency Evacuation Plans.
Threat and Risk Analysis.
Control Room Procedures and Duty Sheets.
Covid 19 Use of Office from home Security and Safety guide.
Security Elements Standards Benchmarks. (Firearms, Fencing, Vehicles, Locks and padlocks, Access control, Contracts, Personnel, Construction sites, Legal compliance)
VIP Protection.
Farm Protection.
Security Procedural and deployment performance audits.
Security Incident Investigations.
Exercise of Emergency Response Plans
Legal and regulatory compliance (all Applicable Legislation).
Laurence can be contacted through the following details: