Description
How is your security? (Book 4 of 5 – Workplace Migration)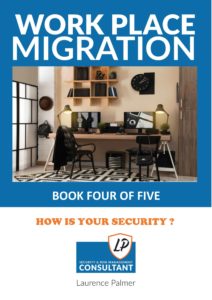 Security means measures taken to guard against espionage or sabotage, crime, attack, or internal fraud and corruption. Risks and threats are identified and prevention and mitigation measures need to be initiated. The focus is on the new trend of working from home in an unfamiliar environment away from the formal corporate office, with its support structures and available resources.
" IF YOU DON'T KNOW WHAT YOU ARE SUPPOSED TO KNOW, YOU INVARIABLY THINK THAT YOU KNOW EVERYTHING THAT THERE IS TO KNOW" – Author Unknown
The Covid 19 pandemic affected everyone in ways never before expected or experienced. In order to mitigate the adverse effects, a whole new way of doing things has been developed and implemented.
One of these mitigations is the option and requirement to "work from home". This is also a new concept and brings with it a number of grey areas.
This series of guideline Branch Books are there to help you think of what you need to know and implement in order to work from home, in a safe and secure situation.  I am available to support your efforts. 
Laurence Palmer.  unicornnlpconsulting@gmail.com