Description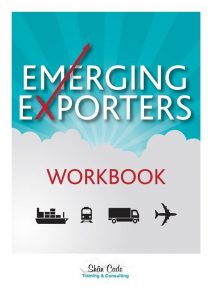 How to start exporting:
Do you want to know how to start exporting? Are you wanting to become an exporter or are you just needing a refresher? Then this exporter's basic guide is the way to go.
This book was written by Shân Cade who had a career of 44 years in the freight forwarding industry. Shân now shares her knowledge and experience in a very user-friendly way. The topic headings and information are based on experiences learned and knowledge of the export industry.
You must gain as much knowledge as you can before you begin exporting.  This is really important.  Especially if you want to avoid disasters within the exporter's supply chain.
This basic guide to exporting is not only about gaining knowledge on the topic, it is also about learning how to think.   So you will think about how you will manage risks, costs, continuity and consistency within the export supply chain.
This emerging exporter workbook –  has "homework sessions" for the purpose of helping you develop a strong exporters mindset, so don't neglect the activities.
This book can be placed in your Business's digital library for future reference and used as a refresher or orientation guide for your staff.
What's in the workbook?
Background and Advantages of International Trade
Marine Insurance
Export Cycle
VAT and Exports
Risk Management Control tools
Quoting and Invoicing
Incoterms 2010(R)
Financing and getting paid
Documentary Credit (UCP600)
It pays to have informed and skilled employees.
Useful websites: