Description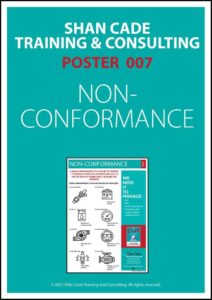 What is non-conformance? It is a "failure to happen" – it warns us there is a problem and sets us on the path to correcting and solving the problem.  Does your team know what a non-conformance is and why it is needed?
"The non-conformance could be in a service, a product, a process, goods from a supplier, or in the management system itself. It occurs when something does not meet the specifications or requirements in some way. These requirements might be defined by the customer, a regulatory body, or in the internal procedures of the company." – Quality Systems
Read our blog posts
What are Toolbox Talks?
Toolbox talks are informal but regular meetings that focus on topics related to a specific job or workplace requirement. Designed to be 20 minutes or less, these meetings are also regular in nature.  They play an important role in building skills, team, productivity, and understanding.
The Toolbox Talk meetings are:
Conducted onsite.
Before workday begins.
Once a week.
For all levels of employees.
By their supervisors or managers.
Our range of toolbox talk posters helps you in preparing for these meetings without too much effort.  Simply purchase and download the poster, then discuss it with your team at your next toolbox talk meeting.