Description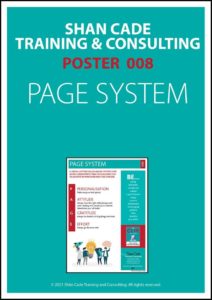 Work attitudes and core values differ from organisation to organisation and even from person to person.  There is one core value system that works no matter where you are or what work you are doing.  The PAGE system.
The PAGE system is a simple cross-cutting values-based system, that when practised consistently allows you to achieve in whatever area you choose.  How do you approach any task or any person?  With the PAGE system.
Your work attitudes and core values can affect every aspect of your professional life – it is a good idea to develop a simple and effective values-based system such as the PAGE system.
Read our blog post to discover more about this system and its value.
What does it mean to be a values-based organisation?  Read more here.
What are Toolbox Talks?
Toolbox talks are informal but regular meetings that focus on topics related to a specific job or workplace requirement. Designed to be 20 minutes or less, these meetings are also regular in nature.  They play an important role in building skills, team, productivity, and understanding.
The Toolbox Talk meetings are:
Conducted onsite.
Before workday begins.
Once a week.
For all levels of employees.
By their supervisors or managers.
Our range of toolbox talk posters helps you in preparing for these meetings without too much effort.  Simply purchase and download the poster, then discuss it with your team at your next toolbox talk meeting.