Description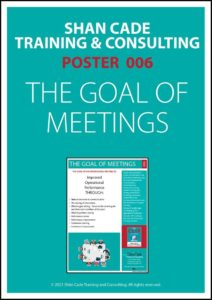 The purpose of meetings must be known by all who are to attend a meeting. There are different kinds of meetings, for different purposes, but all of them involve certain fundamental goals.  Does your team know what they are?
"Ever wondered how to run effective meetings?

It all comes down to your meeting purpose.

You see, the purpose of meetings is what determines how useful a meeting is." – Martjin Aurik

"Meetings, done properly, can be critical to the success and culture of your organisation. Everyone can ensure that they are on the same page, people know where they are heading, and opportunities can be aired.

But this can only really be achieved if everyone is clear on the purpose of this or that meeting. That means being straightforward about what needs to be achieved and how long you want to dedicate to achieving it." – Gen-iUS
What are Toolbox Talks?
Toolbox talks are informal but regular meetings that focus on topics related to a specific job or workplace requirement. Designed to be 20 minutes or less, these meetings are also regular in nature.  They play an important role in building skills, team, productivity, and understanding.
The Toolbox Talk meetings are:
Conducted onsite.
Before workday begins.
Once a week.
For all levels of employees.
By their supervisors or managers.
Our range of toolbox talk posters helps you in preparing for these meetings without too much effort.  Simply purchase and download the poster, then discuss it with your team at your next toolbox talk meeting.