Description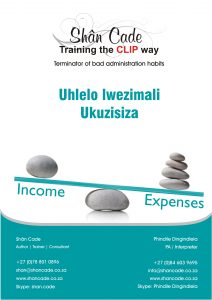 Learn about simply creating a personal budget, including simple tips to start getting out of debt. Get your booklet now!
This booklet was written to help those who do not know how to manage their money. So, the concepts are simple and allow the reader to learn and put themselves, on the way to better money management.  Setting them on the path to financial freedom.
If you are looking for some simple and clear help in setting up your personal or family budget. Then this booklet can help you.
This booklet helps with:
Understanding the reasons you should be using a budget
Simple steps to start getting out of debt
Developing a personal budget
Tips on creating extra income and saving money
Creating a personal budget
Do you have employees who are regularly asking for loans or moaning about not being paid enough? Then consider getting them a copy of this book and start guiding them into learning to manage their money and plan for the future. Or send them to our basic budgeting course (See our training page)
After all, if you don't have good money management habits, no amount of money will ever be enough!
Don't forget to download our personal budget template FREE from our shop.
"Kuyadabukisa ususebenze inyanga yoke, kuthi lapho sekuphele inyanga imali yakho iphele ngaphambi kokuthi ifike kuwe."
"It is sad having to work the whole month, and at the end of the month, your money is gone before you even get it.  This is something you can avoid by planning your budget.  Our heart hurts when we see others struggling with their lives because they don't know anything about budgeting.  Help others create and plan their budget, to help them live a better life." – Shân Cade
Help yourself and others to learn to create a personal budget and begin their journey to financial freedom.
If you are looking for some more information on creating a personal budget – try this helpful article.