Description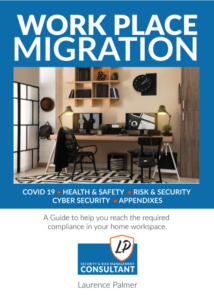 Workplace Migration – The why and how to meet the challenge and ensure safety, security and compliance. © 2021 Laurence Palmer.  All rights reserved.
Our workplaces have migrated – many of us are now working from home.
With the advent of the Covid-19 pandemic and the resultant lockdown, commercial businesses and all other forms of entrepreneurship face a disruptive crisis.
Businesses and offices are forced or obliged to close their doors and convert to a virtual workspace, which centres around working from home. For some who have been used to working outside the formal office space due to their working situation and conditions, it is operating as normal. But for those who are used to the formal office environment only, it comes as a shock to the system and has taken some effort and adjustment to get used to.
The biggest challenge faced by employees and their families is that the office and home have been thrown together into one space, with ill-defined boundaries and no formal support system or resources.
Office employees' function at their best when mundane and arduous routines are broken by a chat around the coffee machine or over the office partition with the staff member next door. At the end of the day, office stress and worries are left behind at the office, and the employee travels for a relative period by own or public transport to reach home, allowing for a period of reflection and de-stressing, ready to arrive home to be welcomed by the family. Now the office and home are in one space!     
The major concerns for any employee and employer have to be
For the health and safety of the employee and his/her family;
For the security of the company assets and intellectual property.
For a working system that will provide the required level of control, coordination, productivity, efficiency and continuity resulting in the survival of the business.
A number of the elements discussed are regulated by Legislation, which implies that compliance is mandatory. Actions required in terms of such legislation will be highlighted as such in the text.
More about Laurence Palmer and LP Consultant:
Laurence Palmer is a security professional who has conducted a successful Security and Risk Management Consultancy since 1995. The primary objective of his consultancy is to provide a hands-on personalized security and risk management service. Not readily available within the industry.
Portfolio of consulting work-
Security Strategy and Philosophy statements.
Security Policy, Vision and Mission statements.
Security – Tender preparation, invitation and adjudication Project.
Security – Site Operating procedures.
Security – Standard Operating Procedures and Duty Sheets.
Security Risk Assessment and Security Plans  (Industrial plants and factories, Commercial buildings, Gated residential estates, Office parks)
Emergency Response Plans.
Emergency Evacuation Plans.
Threat and Risk Analysis.
Control Room Procedures and Duty Sheets.
Covid 19 Use of Office from home Security and Safety guide.
Security Elements Standards Benchmarks. (Firearms, Fencing, Vehicles, Locks and padlocks, Access control, Contracts, Personnel, Construction sites, Legal compliance)
VIP Protection.
Farm Protection.
Security Procedural and deployment performance audits.
Security Incident Investigations.
Exercise of Emergency Response Plans
Legal and regulatory compliance (all Applicable Legislation).
Laurence can be contacted through the following details: