Description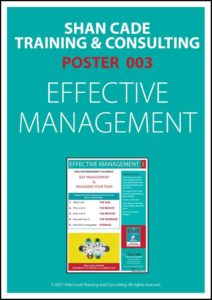 The principles of effective management are many.  With this poster learn the 5 critical things people need to know to be effective in their work. Managers need to share to be effective in management. Practice these with your staff constantly.  Teach your staff to communicate in this way.
Your employees are the ones making your vision a reality, and your job is to make sure they do it efficiently.
"But being an effective manager is about more than just driving your employees to work harder — or more efficiently. Forcing employees to work a certain way can breed resentment, even disloyalty while being too soft can lead to bad habits, laziness or boredom. There's no "right" management style, as each employee and company is going to have an individual perspective." – Jayson DeMers
Have you seen our skills training options, ideal for managers and team members alike?
Read this article on "Tips for effective management success"
What are Toolbox Talks?
Toolbox talks are informal but regular meetings that focus on topics related to a specific job or workplace requirement. Designed to be 20 minutes or less, these meetings are also regular in nature.  They play an important role in building skills, team, productivity, and understanding.
The Toolbox Talk meetings are:
Conducted onsite.
Before workday begins.
Once a week.
For all levels of employees.
By their supervisors or managers.
Our range of toolbox talk posters helps you in preparing for these meetings without too much effort.  Simply purchase and download the poster, then discuss it with your team at your next toolbox talk meeting.