Description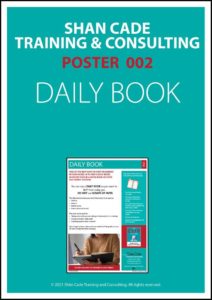 One of the best ways to keep organised in your work is to keep a daily book or notebook.  Learn how to use a notebook effectively.  Learn how to use a notebook to stay organised.
Have a look at what Johnathan Chan of Foundr Magazine has to say about using a notebook:
"Despite the rise of many productivity apps and online tools, there's one method of notetaking that just won't go away and still stands the test of time. No matter how fancy the latest smartphone is, it just can't beat the classic paper notebook. Science says it too! The simple act of writing everything by hand literally makes you smarter, and one study has found that by ditching the keyboard and picking up the pen you're more likely to actually process information instead of just copying things down verbatim. Writing longhand might seem less efficient, but it actually forces your brain to carefully analyze what you're thinking, and in turn, improves your memory and ability to recall that information. To most paper notetakers, including myself, the notebook is more than just a place to scribble some information down, but a much needed second brain. Losing my notebook would mean that I'm nowhere near as efficient or as productive as I am with it."  – Jonathan Chan (Foundr Mag)
This poster shows you the advantages of using a notebook to stay organised.
If you are looking to become more organised – Check out our CLIP System Book.
For further reading check this article out.
What are Toolbox Talks?
Toolbox talks are informal but regular meetings that focus on topics related to a specific job or workplace requirement. Designed to be 20 minutes or less, these meetings are also regular in nature.  They play an important role in building skills, team, productivity, and understanding.
The Toolbox Talk meetings are:
Conducted onsite.
Before workday begins.
Once a week.
For all levels of employees.
By their supervisors or managers.
Our range of toolbox talk posters helps you in preparing for these meetings without too much effort.  Simply purchase and download the poster, then discuss it with your team at your next toolbox talk meeting.