Description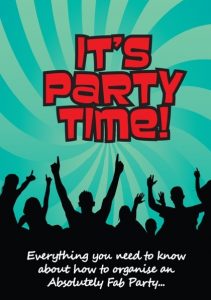 How to plan a party – It's Party Time!
How to plan a party must be one of the most asked questions in the world 😊
I am an organised person.  I use checklists and I am a mom of 2 children.  So, I wrote this rather cute comic style booklet for moms and tweens on how to plan a party.  (Booklet designed by Ady du Plessis of Emphasize Design)
This is the perfect booklet for developing a child's project planning skills.
What's in the book?
The layout of the book will guide you in a methodical and step by step way.  As a result, nothing will be left out as you plan the party.
Each page covers a specific section and  holds a discussion specific to that section
There is a party planner template in the book.  It is aligned to the book sections.
The last 2 pages have a guest list, useful numbers and websites. It also has a list of costs and some planning tips.
Who is it for?
If you are a mom, this is a very good book to use in teaching your children how to project manage.
Project managing is exactly what this book is doing – section by section from the start to the finish of the event.
It is never too late to teach people how to project plan.
Managers can even use it to help their entry-level workers.  Because it will help them improve their planning skills.
Everyone should know how to project plan because it is a skill required in every aspect of life.
It pays to upskill your children for life experiences, especially where project planning is needed.
In summary:  
This booklet has everything you need to know about how to organise an absolutely fab party!
The booklet is in graphic/comic format, making it ideal for younger readers and fun to use.
It includes:
A Party activity planner
Planning Tips
Step by Step party planning (14 steps)
Don't forget to download our Events Planning Template FREE – if you are looking to plan a larger event.
If you are looking for awesome Instagram worthy party ideas – find them here.
Follow this link for more information on a party planning checklist.