Description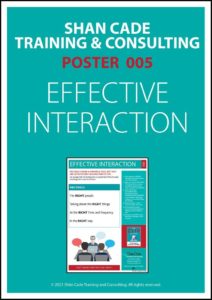 Effective meeting strategies are vital.  Most of us do not have formal training in facilitating meetings, but anyone can learn to do it well.
Meetings can be a powerful tool, but they are often poorly run and ineffective.  How can you have effective interaction?
Effective interaction or meeting strategies include knowing whether to hold a meeting or not and what to do during the meeting and afterwards to make sure it wasn't a waste of time.
"We've all been stuck in a bad meeting. You arrive on time only to have the meeting start 10 minutes late. The agenda? Unclear. The person in charge? Also. Some people start to offer ideas, others shoot them down. Nothing is really decided and the meeting wraps up, as you silently lament the lost hour. There is a better way." – Adam Bryant
Have you read our blog post on "Effective meeting strategies"
What are Toolbox Talks?
Toolbox talks are informal but regular meetings that focus on topics related to a specific job or workplace requirement. These meetings are designed to be 20 minutes or less, but regular in nature.  They play an important role in building skills, team, productivity, and understanding. The meetings are generally conducted onsite, before work begins, at least once a week, for a variety of levels of employees, by their supervisors or managers.
Our range of toolbox talk posters helps you in preparing for these meetings without too much effort.  Simply purchase and download the poster, then discuss it with your team at your next toolbox talk meeting.