Description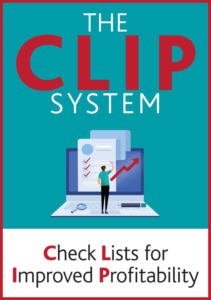 CheckLists for Improved Profitability (CLIP) –
Create your checklists for improved profitability today.   Go from chaos to competence using checklists.  Above all – practice being well organised in everything you do.
CLIP helps you create checklists that improve your work rate and effectiveness.
Every person should be using checklists to be efficient. Checklists help you remain organised and as a result, take the stress out of any task.
The CLIP System book is the ultimate quick read to create the checklists you need.
The CLIP book is about a simple and sustainable checklist method. When used well it will increase your competency and reliability.  Greatly reducing the stress of any situation.
Do you need a quick and uncomplicated method for managing different tasks?
Do you need an easy method for improving productivity and profitability?
Then you will find this book valuable.  It will help individuals, first-time employees, moms, experienced professionals and more.
If your organisation is in need of help to implement the CLIP system fully, in either a department or the whole organisation.  Contact us for a quote on helping you do that.  The CLIP system can be adjusted to suit any industry or level of worker.
People from all walks of life, using the CLIP method, will find it works for them.
Checklists are proven to improve how well you work and how long it takes you to complete a task.  They are also proven to reduce stress, no matter the task that needs doing.
"People in the modern workplace, have heavy demands placed on them.  Mobile phones and emails enable an almost instant communication cycle.  For this reason, among others, people live under  pressure "  -Shân Cade
Through learning the art of creating and using checklists, you can give regular and valuable service.  Everyone can become productive and efficient.  Staff can improve the profitability of your organisation.
"CLIP will help every person in your organisation"
The CLIP System book will, therefore:
Show you who should be using checklists
Teach you the different types of checklists
Give you tips for creating checklists
Show you the advantages of using checklists
Give you examples of a large variety of checklists
Get your copy now and CLIP your way to increased profitability and reduced stress.
Don't forget to download our Focus Tool Checklist Sample – FREE in our shop.